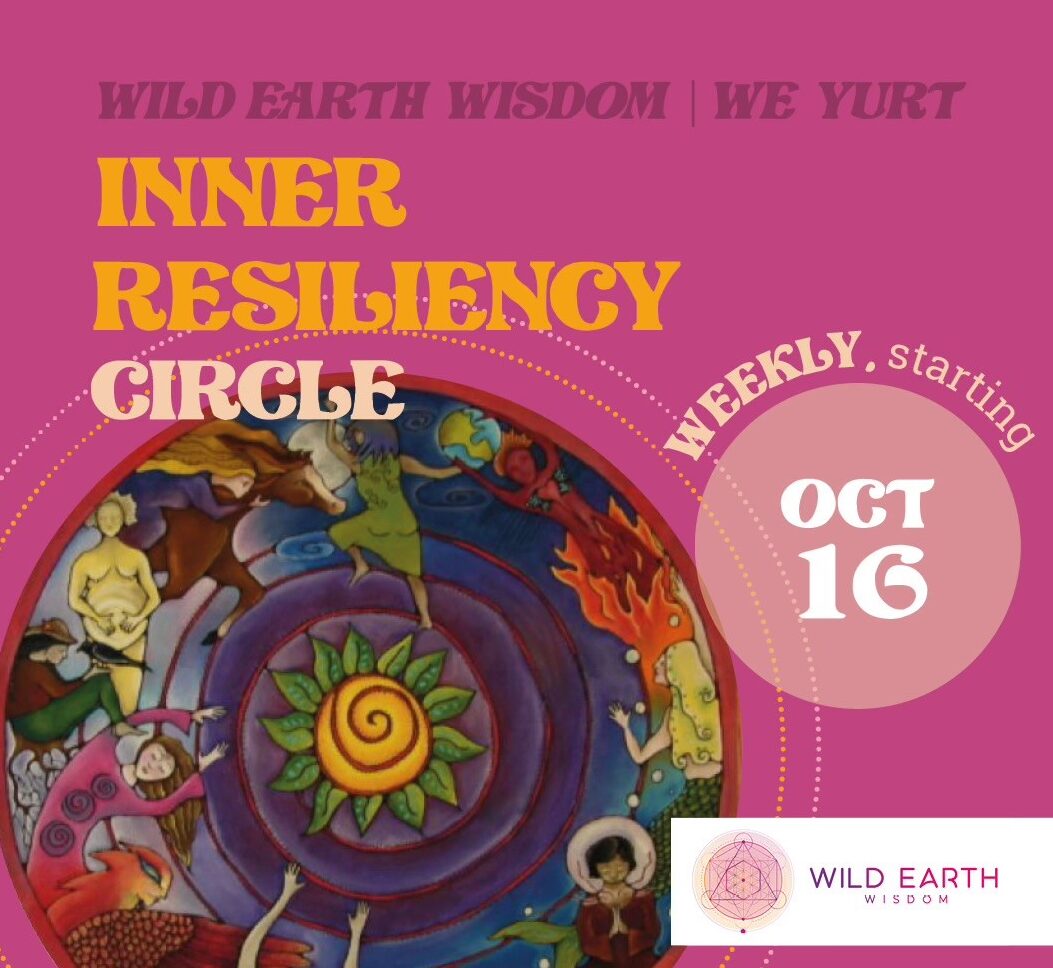 Inner Resiliency Circle
ONLINE
 Experience Presence, Grounding & Thriving!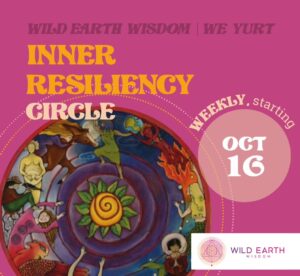 You are invited to experience a group healing circle that meets regularly, every other week.  There will be an initial mediation process to begin our circle, sometimes Tarot cards will be considered, or a sound healing or drumming experience to move our consciousness into a deep receiving trance state.  Then a new theme will be briefly presented at each circle.
We will embody new relational skill patterns, be seen, and feel more grounded, We will experience deep belonging within and with each other, discovering new ways to co-regulate our emotions and nervous systems and become more integrated with our consciousness, body and spiritual energies.  We will increase our Inner Resiliency which will also influence our Outer Resiliency!
One week is in-person for local people who are available to embody a deeper presence in physical community. 

The other week's pattern, is online, to hold presence that is able to be felt, beyond time or space (with no physical location).
This is a space to develop a stronger positive, healing container to navigate the increasing rapid fluctuations of our collective world's consciousness shift.
Symptoms of not coping well with these higher vibrational frequency transformational opportunities are:
feeling lost, confused, disoriented, scattered, a difficulty to hold focus, poor sleeping patterns, ungrounded, increasing anxiety, panic attacks, fear of the unknown, more dysregulated emotional reactiveness, increasing triggers, constant irritations or uncontrolable angry outbursts, etc.
We will be working as a group, or sometimes individually with someone, who may offer a piece of personal 'inner work' that the group can support. This practice also becomes embodied in each person who is 'holding space' for this individual, through the healing resonance that a group supports and also experiences together. The practice teaches us how to hold space emotionally for others, in a way that is not draining or exhausting, but is about being very present, attentive, and listening deeply.  It is about trusting our intuition more deeply and expanding the capacity to listen to the wisdom in the 'relational field' with each other.
Group work is a powerful container that amplifies any individual energetic healing process, that also emanates within each group member as well as radiates out into our families, friends, and the collective consciousness frequencies.  As we hold the space to allow ourselves to heal, we also heal our world.
As we increase the embodied practices of gentle, loving curiosity, and acceptance of our darker, shadow, trauma places within, we cultivate a fearless inner resiliency of allowing a transformational process to enter more effortlessly into our being.  This heals the body-mind relationships within ourselves, clearing what no longer serves us to be in our authentic true self, increasing our aliveness, presence, and vitality of life energy!
Inner Resiliency is about the idea of strengthing our emotional capacity to flow with the harder, more uncomfortable emotions, not be afraid of them anymore, but see them as opportunities to find something that has been lost, fragmented, dissociated, or broken.  It is when we can stay present to these parts, slowly, gently, lovingly, we discover a new possibility that is like a golden nugget seed of new consciousness that is better, transforming something that was blocked into something that is about going forward with a new, deeper connectedness with self AND others!
Inner Resiliency is also about our ability to be fluid, flexible and bounce back quickly from any situation, difficult experiences, past or present, and know that you will ALWAYS gain more of yourself, no matter what happens.
Yes!  It is truly possible to embrace change, differences with others, and limitations and to grow into a better balance of body, mind and soul!
The term 'in the Zone' or 'Flow States' is another way of describing an expansive state of consciousness that describes a heightened awareness of deep resilient presence.
To achieve this, we will practice a variety of tools each week that you can practice daily, to increase your Inner Resiliency, such as:
Bioenergetic Essential Exercises, such as grounding, anger releases, and more
Body Felt Sense Process Meditation  
EFT | Emotional Freedom Technique tapping sequences
Energy Medicine energetic balancing
Guided Visualization Meditations
Tarot Card explorations
Intuitive Drawing exercises
Simple calming or charging breathwork practices 
Sounding healing expressions

Expansion and contraction is the basic rhythm of the universe; continuous pulsations of the IN breath and the OUT breath. The body experience of ecstasy is literally an experience of oneness with all of creation. When we feel alive, vital and joyful, our energy is charged, it goes up! When we feel calm, peace or equanimity, our energy goes down, and we are relaxed. When we feel both, we come into an experience of Unity Consciousness with God/Source.
The Online group will be open to new members on a drop-in basis.
One week is in-person for local people who are available to embody a deeper presence in physical community. 

The other week's pattern, is online, to hold presence that is able to be felt, beyond time or space (with no physical location).
This group is open to women or men who are ready to explore their inner resiliency capacity.
THIS INTRODUCTORY EVENT IS FREE!
Future events are min. $25.  Optional Fee's are $25/$35/$45…
Payment can be made at the link below or by cash at the event or by e-transfer to ingrid@buildingsoul.ca